My JOY List guide to uplifting, beautiful and creative finds of 2017 Holidays.
One way to increase your gratitude is to notice beauty. Take note of it and let it inspire you. This can be the beauty found in nature, people, places and things imbued by the creative spirit. I've been becoming more cognizant of what uplifts me and what tries to bring me down. What gives me life also ignites my imagination and brings me closer to my innate humanity. So, I'm committed to accepting nothing less than passion in my life. I'm compiling a JOY List of the beauty in this world that especially impacted me this year, starting with the fashion.
THE DESIGNERS
Taibo Bacar | Last year, I identified Taibo Bacar as one of 5 African luxury brands everyone should know for @vanichimagazine.
Born in Mozambique, Taibo Bacar celebrates the female form with pieces that compliment the curves and the lines of the body. The pieces I'm wearing were made in Mozambique. The silk Georgette blouse features red velvet ties at the neck and wrists. The jacquard skirt has structured lace and brass stud detailing at the front.
Okapi | I've been swooning over London-based Okapi for a couple years. I consider their springbok fur bracelet to be a new classic.  All their pieces are handmade artisanal designs made in South Africa and sourced from local materials. Every element of their bags is traceable, sustainable and ethically sourced and the jobs being created grow local economy and skills.
Currently, I'm admiring their limited edition backgammon set:
Hyun Yu | Made in Los Angeles, geometry plays with minimal sensibility through the work of designer Hyun Yu.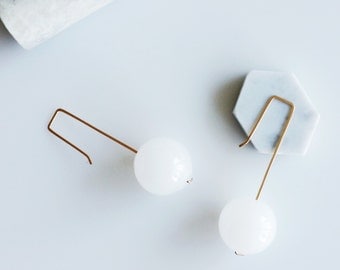 Johanna Ortiz |  Johanna Ortiz released some of the most iconic silhouettes that don't just embrace femininity, but also exalts it.
Shay Jewelry |  This mother daughter team makes dreamy jewelry in sunny Los Angeles. The way they lay with emeralds for pinky rings, chokers and bracelets feels refreshingly and decidedly different.
A post shared by S H Ʌ Y J E W E L R Y (@shayjewelry) on
Rokus London |  Rokus is forging a legacy with sculptural artisan pieces that are inspired by Africa, art and ancient history. The Fulani-inspired Fula ear cuff and ring infuses an ancient design of the Fulani peoples of Mali with innovative wearability.
Andres Gallardo |  First, Andres Gallardo's porcelain jewelry thrilled me. Now, porcelain animals merge with the concept of a leather bag for a new level of wow.
THE EYEWEAR
JINS |  In a world that has embraced the idea of a pair of glasses being as expensive as a mortgage, offering accessibly priced options can be an innovative idea. Hailing from Japan, JINS is doing just that. If what you want is in the store, then within 30 minutes you'll have your new frames with your prescription lenses.
I fell in love with the Frontswitch 301, a light airframe style that has magnetized clip-on sunglasses. In addition to letting me quickly go from glasses from sunglasses, the lenses also protect my eyes from blue light radiating from electronic devices.
Krewe |  Krewe is creating handmade eyewear in New Orleans and I'm here for it. The brand's Octavia sunglasses have a geometric confidence that equally evokes visions of rock stars and fashion icons.
THE COLLABORATIONS
Marzook x Nugamshi
This Marzook x Nugamshi "شغف" Passion capsule collection is the first for Kuwait-based brand Marzook. Founded by brother and sister Fahad and Shouq AlMarzook, the design duo teamed with Saudi artist Nughamshi who is known for his brushstrokes with Arabic calligraphy. Here, art and fashion merge on the brand's distinctive circular, limited edition leather bags.
Christian Louboutin x Sabyasachi
Christian Louboutin serves up fresh versions of his classic designs in this collab with Indian designer Sabyasachi Mukherjee. The two met in Sabyasachi Kolkata boutique and have been working together on unique pieces for a few years. This CLxSabyasachi collab features rare sari fabrics from Sabyasachi's personal collection and embellishments that combine wedding romance with ancient storytelling and new fashion techniques.
Gladys Tamez x Xinu
Gladys Tamez Millinery joins forces with perfumery Xinu to present a GTMxXinu collaboration that draws on the botanicals of the Americas and sacred geometry. Xinu crafted an intelligent and deliberate scent collection while Gladys Tamez crafted botanical inspired hats. Together, they diffuse the line between perfume and hats since scent wafts up toward the crown and the hat adorns it.
Discovering the Gladys Tamez x Xinu #GTMxXinu perfume collaboration via handmade hats that bring in the spiral imagery of the universe + botanical based perfumes that celebrate Mexican heritage. This is New World Luxury. pic.twitter.com/psAzCg8bBH

— Joy Donnell Society (@doitinpublic) November 19, 2017
Note the spiral design on the Gladys Tamez Áurea cap. It's muse is the Áurea Spiral that is found throughout the natural world in flora and fauna. This spiral shape connects to the sacred geometry that is evident on a large scale in galaxies as well as in the minutia of a mouse's cornea.